Description

Product Name   : Cactus Extract Powder

Botanical Name  : Opuntia ficus indica. (L.) Mill

Family Name   :  CACTACEAE

Common Name  : Cactus, Kra-bong-Pet (in Thai)

Part Used    :  Stem
Cactus is a plant native to originate in the desert. Their distinctive appearance is a result of adaptations to conserve water in dry and/or hot environments.

In most species, the stem has evolved to become photosynthetic and succulent, while the leaves have
evolved into spines. Many species are used for ornamental plants, and some are also grown for food,
feed, fruits, a boundary fence and other uses.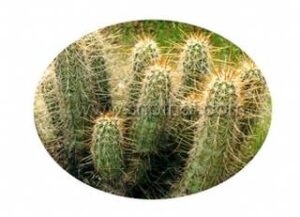 Active Ingredient of Cactus Extract