Description
Product Name  : Baelfruit Extract Powder
Botanical Name  : Aegle marmelos Corr.
Family Name  :  RUTACEAE
Common Name  : Ma-toom (in Thai)
Part Used  : Fruit
          Baelfruit is a middle-sized perennial plant that was originally found in India and now is commonly found in Southeast Asian countries. In Thailand,

it is found in all regions, especially in sparse forests with many varieties of trees. The stem contains a high amount of resin. The fresh or semi-ripe fruit can be consumed and used as an astringent, a digestive, and antidysenteric product due to a high level of tannin, pectin and mucilage, which have the properties of anti-peptic ulcer and laxative. It is used in cosmetic, pharmaceutical and food industries. The mucilage from Baelfruit expands in water, which helps increase the viscosity of a solution. It is used as an additive, in which it acts as a suspending agent, a surfactant, and an emulsifying agent. The mucilage is composed of D-galacturonic acid, D-galactose, L-arabinose, and L-rhamnose.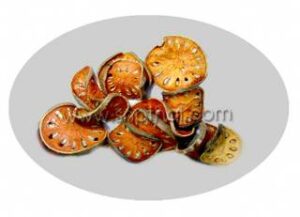 Active Ingredients of Baelfruit Extract