Description
Product Name  : Kaffir Lime Extract Liquid
Botanical Name  : Citrus hystrix DC.
Family Name  :  RUTACEAE
Common Name  : Kaffir lime , leech lime, Ma-krut (Thai Name)
Part Used   : Peel
Kaffir lime (Leech lime), a member of the CitrusFamily, is a perennial plant.It originates in Southeast Asia. The peel contains essential oils, mainly composed of citronella (25%). Kaffir lime oil is used as a fragrance additive for shampoo and soap. The peel also contains resorcinol that has an anti-dandruff property. The juice has a slight acidity due to organic acids such as citric acid, which suitable for skin. Kaffir lime shampoo can be able to correctly maintain the acidity of scald  head, and also improves the hair darkness and reflection. In addition, the  anti-fungal activity of Kaffir lime Extract is so effective for incorporating with anti-dandruff and  acaricidal (louse protection) shampoo preparations.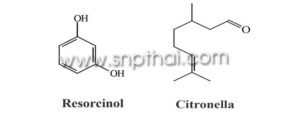 Active Ingredients of Kaffir Lime Extract