Description
Product Name   : Whitening Complex
Part Used  : Ma-haad Heartwood, Paper mulberry Bark, Licorice Root
The skin color is mainly determined by the content of an epidermal pigment called melanin. Its major function is to provide protection against ultraviolet (UV) radiation. However, excessive melanin production is not desirable since it may cause a darker or uneven skin color. The initial process of melanin production (melanogenesis) is controlled by tyrosinase, which is an enzyme catalysing the hydroxylation of tyrosine, the precursor of melanin, into dihydroxyphenylalanine (DOPA) and other intermediates. Thus, inhibition of tyrosinase activity or its production can prevent melanogenesis. Several plant extracts were found to exhibit strong anti-tyrosinase activity  such as those from  Artocarpus lakoocha Roxb.(Ma-haad) ,Broussonetia papyrifera L. (Paper mulberry) , Glycyrrhiza glabra L. (Licorice)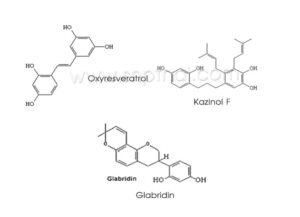 Ma-haad
Artocarpus lakoocha Roxb. is a tropical tree widely distributed in the regions of South and South-east Asia.  In Thailand, the plant is called "Ma-haad " . The main constituent in the heartwood extract are oxyresveratrol (2,4,3′,5′-tetrahydroxystilbene) and resveratrol (3,5,4′-trihydroxy-trans-stilbene) has been known for its potent tyrosinase inhibitory activity. The heartwood extract of Ma-haad was evaluated for the in vitro tyrosinase inhibitory activity and the in vivo melanin-reducing efficacy in human volunteers.
Active
Licorice
Glycyrrhiza glabra, also known as licorice, liquorice and sweet root, is native to southern Europe and parts of Asia. In Thailand, the plant is called "Cha-em-taet" . Glabridin is the main active ingredient in licorice root extract affecting on skins whitening. The mechanism of glabridin on melanogenesis has been shown that it can inhibit the tyrosinase activity of melanocytes.
Active
Paper mulberry
Broussonetia papyrifera, also known as paper mulberry, is a deciduous tree or shrub, which grows naturally in Asia and Pacific countries such as China, Thailand and USA. In Thailand, the plant is called  "Por – Saa ".  Paper mulberry extract was found to show depigmenting effects with Kazinol F from the bark extract showing strong tyrosinase inhibitory activity. It is a popular skin-lightening agent in Asia, Europe and South America.
Active
Properties
Inhibit Tyrosinase activity
Skin whitening agent
Reduce melanin formation
Anti-oxidant
Application
Whitening agent for skin care products such as cream, lotion, serum and soap.