Description
Product Name  : White Head Extract Liquid
Botanical Name  : Eclipta prostrata (L)L.
Family Name  : ASTERACEAE
Common Name  : White Head, Ka-Meng (Thai name)
Part Used  : Leaves
Hair care : In ayurvedic medicine, Eclipta alba is consider a powerful liver tonic, rejuvenative, especially  good for the hair. It's  leaf as can be used for hair  dyeing and tattooing or mixed with coconut oil for hair tonic  application. Skin care : Eclipta alba leaf can be used  to  heal  athlete foot, eczema and dermatitis, and apply on the  scalp to relieve hair loss.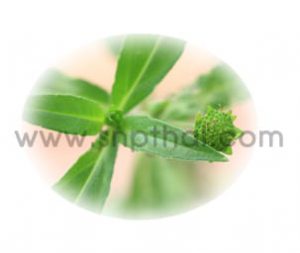 Active Ingredients of White Head Extract
Properties & Application
– Hair care (Hair growth promoter)
– Hair tonic
– Hair shampoo
– Hair conditioningBody care
– Cream
– Lotion
– Prevent hair premature graying
– Anti-inflammatory agent
– Antimicrobial
– Prevent hair fall