Description
Product Name     : Mangosteen Extract Liquid
Botanical Name  : Garcinia mangostana L.
Family Name      :  ANACARDIACEAE
Common Name  : Mangosteen, Mung-kood (Thai)
Part Used  : Epicarp
Mangosteen is THE Queen of the tropical fruits with a sweet and sour taste. It is widely cultivated in Thailand and can only be harvested once a year during raining season. In Thailand, Mangosteen is dominantly found in the Eastern and Southern regions. The fruit is 5 – 8 cm in diameter with a thick reddish – purple epicarp ( peel ) covering the aril or pulp which is segmented like that of an orange. The active ingredients in the epicarp of Mangosteen are consisting of more than 40 Xanthones (mainly Mangostins e.g. alpha-, beta- gamma Mangostins). Mangosteen is one of nature greatest sources of Xanthones. No other fruit does contain such high amount. These Xanthones have astringent property than can be medicallyused to cure e.g. diarrhea. Mangosteen extracts from the epicarp act as anti-bacterial and anti-inflammatory agents and are therefore used as ingredients in Dermatology. In Cosmetics Mangosteen  extracts are widelyused as a treatment for infected acne and are also found in oral care products due to its activities against pathogenic bacteria was tested in vivo and is proven to decrease acne lesions and shows anti-bacterial activities against S.pyogenes, P.gingivalis, S.mutans and S.aureus which are oral cavity pathogenic bacteria. is therefore an excellent ingredient to be added in repairing and curative skin care products as well ass in oral care such as in tooth paste, tooth gel or mouth spray etc.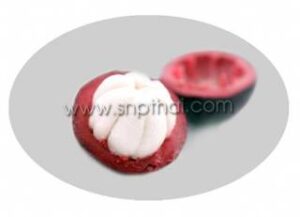 Active Ingredients of Mangosteen Extract